Явление
Emergence
Давай сыграем в КНЯБС?
Камень
Ножницы
Бумага
Ящерица
Спок
Случайный сериал
Шеф полиции небольшого городка усыновила маленькую девочку с амнезией. Однако, когда приёмная мать решает погрузиться в прошлое загадочного ребёнка, то узнает шокирующие подробности.

Последняя серия
1x11
15.01.20, 5:00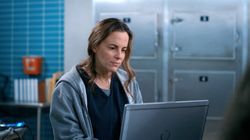 5 дней назад
Jo and Brooks assemble an unlikely team as they attempt to communicate with Piper. Meanwhile, Piper is intent on saving Benny from Helen's mysterious mission, and Alex receives a life-changing offer.
Следующая серия
1x12
22.01.20, 5:00
через 1 день
Jo makes a high-stakes deal to take down Helen and keep Piper safe. Meanwhile, Helen attempts to replicate Piper's powers for herself, and Benny struggles to earn back Jo's trust before it's too late.