Изумрудный город
Emerald City
Случайный сериал
2017
серий: 8 / 10
продолжительность: 8 часов
Двадцатилетняя полицейская Дороти Гейл и ее пес с помощью торнадо переносятся в Страну Оз, где правит Винсент Д`Онофрио. Это магические земли конкурирующих королевств, смертоносных воинов, темной магии и кровавых битв за власть.

Выберите озвучку
Последняя серия
1x08
18.02.17, 4:00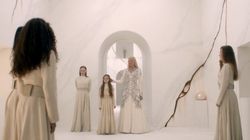 4 дня назад
When Dorothy and Lucas arrive at Glinda's castle she reclaims something for which she has been searching. The Wizard heads to the Kingdom of Ev to build his weapons arsenal. Meanwhile, West uses some dangerous magic to help Tip reconnect with her past. In the Kingdom of Ev, Jack struggles to find his place in Langwidere's life.
OMSKBIRD records
18 февраля, 16:00
LostFilm
20 февраля, 0:00
AlexFilm
20 февраля, 0:00
Jaskier
20 февраля, 16:00
Следующая серия
1x09
25.02.17, 4:00
через 2 дня
As the Wizard arrives in the Kingdom of Ev, an intense negotiation may lead to a standoff with Langwidere. Dorothy and Lucas find themselves on opposite sides. Meanwhile, Jack makes a decision that may have deadly consequences. Elsewhere, Tip and West solidify their bond and mount a battle of their own.
OMSKBIRD records
25 февраля, 16:00
LostFilm
27 февраля, 0:00
AlexFilm
27 февраля, 0:00
Jaskier
27 февраля, 16:00
Список, описание и даты выхода серий