Манифест
Manifest
Авиарейс Монтего 828 безопасно приземляется после полета, команда и пассажиры выходят наружу и обнаруживают, что за прошедшие несколько часов мир постарел на пять лет, а друзья, коллеги и семьи, поначалу не терявшие надежды увидеть родных живыми, начали жить дальше.

Последняя серия
1x09
27.11.18, 5:00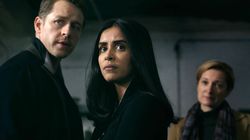 1 неделю 6 дней назад
When Ben and Michaela put everything on the line to save the other missing passengers, the mission goes horribly awry and not everyone makes it out alive. The devastating result pushes Ben and Grace to a traumatic brink, while pulling Michaela and Jared dangerously close together.
Следующая серия
1x10
08.01.19, 5:00
через 4 недели
OMSKBIRD records
9 января, 17:00