Звездный путь: Дискавери
Star Trek: Discovery
Действие сериала развернется за десять лет до событий оригинального «Звездного пути». «Дискавери» расскажет зрителям о приключениях экипажа одноименного звездолета, бороздящего просторы космоса в поисках новых миров и цивилизаций.

Выберите озвучку
Последняя серия
1x15
12.02.18, 3:30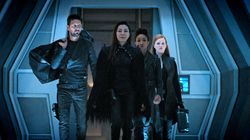 1 неделю 2 дня назад
With Georgiou at the helm of the plan to end the Klingon war once and for all, the U.S.S. Discovery crew struggles to fathom and tolerate her hostile tactics. Memories of past hardships are rekindled within Burnham.
OMSKBIRD records
13 февраля, 6:30
Sunshine Studio
13 февраля, 10:30
LostFilm
13 февраля, 19:30