Теория большого взрыва
The Big Bang Theory
Выберите озвучку
Последняя серия
11x15
02.02.18, 3:00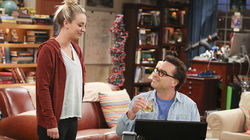 2 недели 5 дней назад
When Sheldon petitions Wil Wheaton to appear on the new Professor Proton show, Wil offers a role to Amy instead. Also, Penny gets angry when she thinks the female protagonist in Leonard's novel is based on her.
Следующая серия
11x16
02.03.18, 3:00
через 1 неделю 1 день
When Bernadette won't go into labor, all her friends try different tactics to get things started. Also, Wolowitz confronts Bernadette after Amy accidentally reveals she's already chosen their son's name.
Sunshine Studio
2 марта, 10:00