Табу
Taboo
Случайный сериал
2017
серий: 7 / 8
продолжительность: 7 часов
Считающийся погибшим, авантюрист и искатель приключений Джеймс Кезиах Делейни вновь в 1814 году, после 10 лет путешествий в Африке, появляется в Лондоне, стремясь отомстить за смерть своего отца. Делейни возвращается, чтобы обнаружить, что ему было оставлено отцом таинственное наследство и строит свою собственную корабельную империю в начале 1800-х годов, играя в опасную игру между двумя воюющими странами - Англией и Америкой...

Выберите озвучку
Последняя серия
1x07
18.02.17, 23:15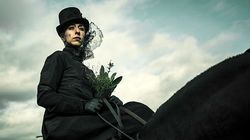 2 дня назад
James Delaney has seemingly lost everything, but when he suffers a devastating betrayal, he realizes even his freedom is in jeopardy. Armed with the opportunity they have been longing for, the Crown and Company conspire to bring him down once and for all. Elsewhere, Lorna sets out to discover the truth, whilst Zilpha has perhaps already found her own.
OMSKBIRD records
19 февраля, 22:15
AlexFilm
19 февраля, 23:15
Следующая серия
1x08
25.02.17, 23:15
через 4 дня
It is the time of final reckoning. James Delaney confronts Sir Stuart Strange of the East India Company, with the cold hard truth. Revelations about those surrounding him are unearthed and met with deadly ramifications. Meanwhile, James conspires to escape, but as the cold enmity of the Prince Regent turns into a lethal fury, the Crown unleashes one final plan to destroy him. Time is running out, scores need to be settled, and tragic consequences to be borne.
OMSKBIRD records
26 февраля, 22:15
AlexFilm
26 февраля, 23:15
NewStudio
27 февраля, 23:15
Список, описание и даты выхода серий