Роковой патруль
Doom Patrol
Сюжет повествует о супергероях, обретших сверхспособности в результате изувечивших их роковых случайностей. В состав необычной команды под руководством сумасшедшего учёного Найлза Колдера (также известного как Шеф) входят Роботмен, Негативный Человек, Безумная Джейн и Эластичная Женщина. Сломленные и искалеченные, эти люди находят применение своим способностям, защищая Землю от самых невероятных угроз. Роковой патруль — команда изгоев, воюющих за спасение мира, которому нет до них никакого дела.

Последняя серия
1x15
24.05.19, 16:00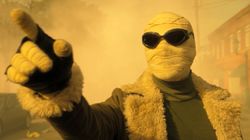 3 недели 5 дней назад
After Niles' revelation, the team goes its separate ways. However, circumstances bring them back together when Nobody, Ezekiel, and Whiskers join forces as the Brotherhood of Dangerous Animals.