Случайный сериал
6
2016
серий: 13 / 15
продолжительность: 6 часов 30 минут
Выберите озвучку
Последняя серия
6x13
18.01.17, 3:00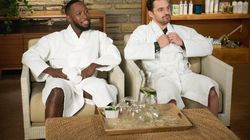 6 дней назад
As Jess tries to find a new vice principal, she discovers that she has a real problem when it comes to making decisions. Meanwhile, Cece enlists Jess and Reagan to help her recruit new models, and the guys are in for a surprise when they enjoy a day at the spa.
Следующая серия
6x14
25.01.17, 3:00
через 23 часа 6 минут
While on a day hike, Jess and Robby discover something unexpected about their relationship. Also, Winston throws a surprise welcome home party for Aly. Meanwhile, Schmidt and Cece fail to impress their new neighbors.
Список, описание и даты выхода серий