Озвучки отсутствуют :(
Возможно мы очень скоро их добавим!
Последняя серия
8x08
17.11.22, 3:00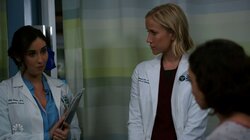 2 недели 4 дня назад
Will, Crockett and Justin Lieu try to facilitate a trans-organ exchange. Hannah and Nellie help a sexual assault survivor. Ethan and Archer treat a patient whose case could expose a fraudulent doctor. Grant and Maggie take a trip down memory lane. 
Следующая серия
8x09
08.12.22, 3:00
через 2 дня
Will relies on Crockett and Med's newly donated OR 2.0 to save his patient. Charles helps an elderly confused patient who's mourning the loss of his high school sweetheart. As their wedding day approaches, Ethan and April run into some roadblocks.