Случайный сериал
2
2016
серий: 11 / 13
продолжительность: 11 час
Выберите озвучку
Последняя серия
2x11
20.01.17, 4:00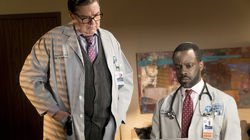 2 дня назад
It's a long night on the graveyard shift at Chicago Med, especially for Dr. Reese, who must deal with pronouncing patients dead on more than one occasion. April gets called in to work, much to the dismay of Tate, who pressures her to slow down. Meanwhile, Dr. Charles passes along some vital news to Dr. Latham, and Goodwin asks Dr. Rhodes to work on a most unusual patient.
Следующая серия
2x12
03.02.17, 4:00
через 1 неделю 4 дня
Dr. Manning and Dr. Charles treat a teenage girl with a rapidly changing set of symptoms that has everyone perplexed. Dr. Choi and medical student Jeff Clark encounter a 19 year-old tough guy who is brought into the hospital in severe distress. Once they establish the cause of the pain, the situation quickly turns dangerous and a resolved Dr. Reese does her best to help. Elsewhere, Dr. Latham makes a big admission to Dr. Rhodes while Dr. Halstead must deal with a difficult case that is further complicated by Dr. Stohl, who has a camera crew following him around to shoot a promotional video spotlighting the hospital.
Список, описание и даты выхода серий