Случайный сериал
2016
серий: 14 / 18
продолжительность: 14 часов
Выберите озвучку
Последняя серия
2x14
17.02.17, 4:00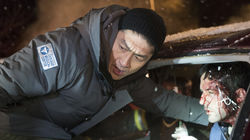 5 дней назад
The doctors and nurses of Chicago Med brace for an influx of trauma patients when a pre-dawn pileup finds the hospital in full scramble mode. With Dr. Rhodes and Dr. Latham handling duties in triage, difficult decisions are made. As a result of the storm and emergencies, supplies become limited and Goodwin, Dr. Manning and Dr. Halstead must deal with making an impossible decision. Meanwhile, Dr. Choi handles a severely burned patient who has one final request. Dr. Charles deals with an agitated patient who makes his presence known in the waiting room.
Следующая серия
2x15
03.03.17, 4:00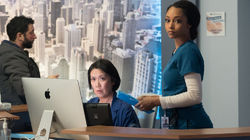 через 1 неделю 1 день
It's a miracle when a trauma patient survives the trip to the hospital, putting the pressure on Dr. Rhodes to keep the man alive. Dr. Choi and Dr. Manning have difficulty diagnosing the location of infection in a paralyzed patient. Dr. Reese must find purpose for a grieving widower who relies on a superhero costume. Meanwhile, April pushes Dr. Halstead to use unproved medications to help a patient with no other options.
Список, описание и даты выхода серий