Кровь и сокровища
Blood & Treasure
CBS , 2019 - ... 2019-05-22T04:00:00
Давай сыграем в КНЯБС?
Камень
Ножницы
Бумага
Ящерица
Спок
Эксперт по античности Дэнни Макнамара и воровка произведений искусства Лекси объединяются, чтобы выследить и поймать террориста, который финансирует свою деятельность, продавая украденные исторические артефакты.

Последняя серия
1x13
07.08.19, 5:00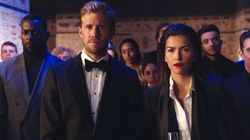 1 месяц назад
Secrets are exposed, fates are sealed, and Danny and Lexi's lives will never be the same after Farouk's master plan is put into action.