Ханна
Hanna
18-летняя Ханна всю жизнь прожила в лесах Северной Польши, где её с юных лет тренировал Эрик, прожженный наёмник и старый солдат. Изолированный от цивилизации, он обучил Ханну всем возможным методам выживания. Эрик хотел защитить её от остального мира, но сама Ханна очень хочет узнать тайну своего происхождения.

Выберите озвучку
3 апреля
Последняя серия
1x08
29.03.19, 7:00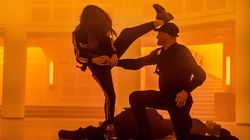 2 недели 6 дней назад
When Erik reveals to Hanna the truth about Utrax, she is determined to take action. Meanwhile, Marissa attempts to find out from Sawyer what has really been going on at the facility.