Блудный сын
Prodigal Son
Давай сыграем в КНЯБС?
Камень
Ножницы
Бумага
Ящерица
Спок
Случайный сериал
Криминальный психолог Малькольма Брайта лучше всех разбирается в поведении маньяков и составляет на них досье. Как так получилось? Дело в том, что его родной отец — серийный убийца по кличке Хирург. Малькольму предстоит консультироваться с папой по поводу новых дел и параллельно самому не сойти с ума.
Последняя серия
1x18
31.03.20, 4:00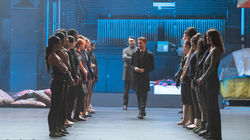 1 день назад
When an up-and-coming ballet dancer is mysteriously poisoned, the NYPD dives deep into the rigorous world of dance. Meanwhile, Jessica reunites with an old friend, socialite Nicholas Endicott, and Bright and Eve turn to Martin for answers regarding the girl in the box.
Следующая серия
1x19
21.04.20, 4:00
через 2 недели 5 дней