Нью-Йорк. Огромный город, жизнь в котором кипит. Каждый день отделение полиции борется с десятками тысяч случаев мелких и крупных преступлений. Самые серьезные дела берут на себя агенты федерального бюро расследований. Будни этих людей по-настоящему сложны, опасны и интересны одновременно. Проект ФБР сконцентрирован на повседневной службе агентов бюро, которые работают над раскрытием дел, поступающих один за другим без остановки,а также проводят опасные операции по захвату подозреваемых.

Последняя серия
1x22
15.05.19, 4:00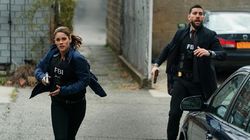 1 неделю 3 дня назад
A woman with information about the death of Maggie's husband is abducted leading the team to uncover a criminal operation larger than anyone imagined. Also, Dana puts her career in jeopardy by standing by and allowing Maggie to work on the case, which has such a personal connection to her.